Mobile hygiene protection made of acrylic glass for increased public traffic and for offices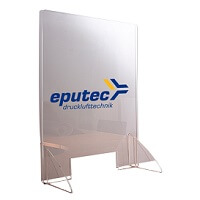 Our mobile, transparent protective screen made of acrylic offers excellent protection against droplet infection. Equipped with two stable feet, it is perfectly suited to reducing the risk of infection in places where sufficient distancing cannot be guaranteed.
Whether this is in industrial production, in the warehouse, in packing and unpacking of goods, in offices with several employees or generally during conversations with other people, where a sufficient safety distance cannot be maintained for reasons of space or confidentiality.
There are countless possible applications that can help you to better protect your employees and their conversation partners.
A small cut-out at the bottom in the middle serves as a pass-through for documents, goods, change, etc. The hygiene protection can be installed without tools on feet and are therefore ready for use in no time at all. Easy to clean, they can be stored after use to save space.
Our virus protection screens made of acrylic (with a logo or printed notice on request) can be used universally and without any problems.
Tickness: 5 mm acrylic
Dimensions: 600 x 800 mm (on request also available in custom sizes as required)
Dimensionally stable
Low injury risk
Easy to clean & disinfect
In stock, or available at short notice
Please contact us directly if you need a different size or have any questions about our hygiene protection walls.