What are Air Nozzles and Jets?
We offer a complete selection of air nozzles and Jets suited to a wide range of blowoff, cooling and drying applications. These air nozzles have been engineered to provide a strong blast of airflow while minimizing air consumption and noise levels. They are available in many configurations and materials to suit the requirements of your application.
Selecting the Right Air Nozzle
EXAIR manufactures a wide selection of Air Nozzles and Jets, which are divided into two groups. The first group includes Air Nozzles and Jets that deliver force up to 22 ounces (624 grams), making them suitable for most blowoff, drying and cooling applications. The second group includes Air Nozzles that produce high force up to 23 pounds (10.43 kg) where additional reach and force are required.
Brass general purpose applications. Max temp 400oF (204oC)
Zinc aluminum alloy general purpose applications. Max temp 250oF (121oC)
Type 303 Stainless Steel high temperatures and corrosive environments. Max temp 800oF (426oC)
Type 316 Stainless Steel high temperatures, corrosive environments, and mechanical wear. Max temp 1000oF (538oC)
PEEK replaces metals in harsh environments. Offers chemical resistance, non-marring. Max temp 320oF (160oC)
Click a product category to find out more!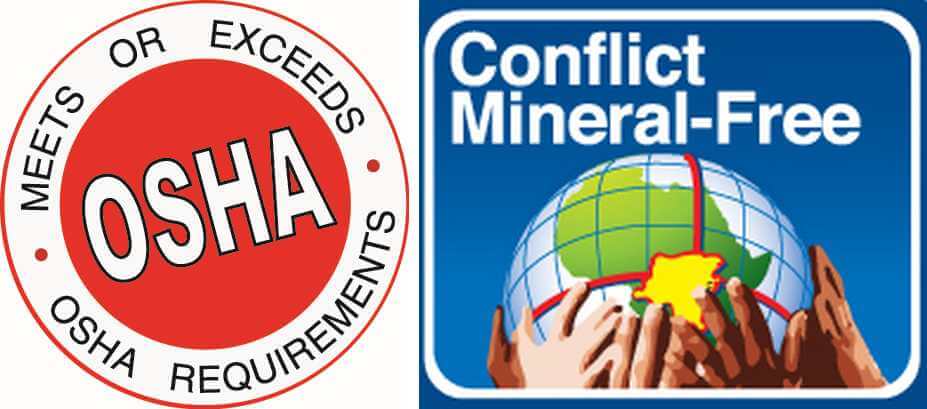 Some applications require extremely high force with extensive reach. EXAIR's High Power Safety Air Nozzles, 2″ High Power Super Air Nozzles, Large Super Air Nozzles and Super Air Nozzle Clusters provide incredibly strong blowing force. They are ideal for part ejection as well as blowoff, cooling and drying applications. Now, EXAIR has engineered Large Super Air Nozzles that put the blowing capability of multiple nozzles into one single air nozzle. Hard-hitting force is measured in pounds, not ounces. All meet OSHA noise level and pressure requirements.
Click a product category to find out more!





How Air Nozzles Work
Air Nozzles use the coanda effect to amplify compressed airflow 25 times or more. As illustrated on the right, compressed air (black arrows) is ejected through a series of nozzles on the outer perimeter. As the air travels along the outer wall of the nozzle, surrounding air (blue arrows) is entrained into the stream. The airstream that results is a high volume, high velocity blast of air at minimal consumption. The air is always ejected so it can vent safely, well below OSHA dead ended pressure requirements, should the nozzle end be blocked.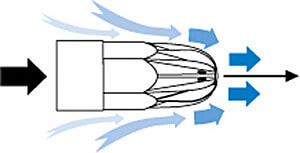 Adding Flexibility
For applications where frequent repositioning of the standard force Air Nozzles and Jets is required, the Flexible Stay Set HosesTM are ideal. Simply mount the hose in close proximity to the application and bend it to aim the airstream at the target. Since the hos has "memory", it will not creep or bend. It always keeps the aim until physically moved to the next position.