Cold Gun – Aircoolant System™
Replace messy mist systems – improve dry machining with clean, cold air!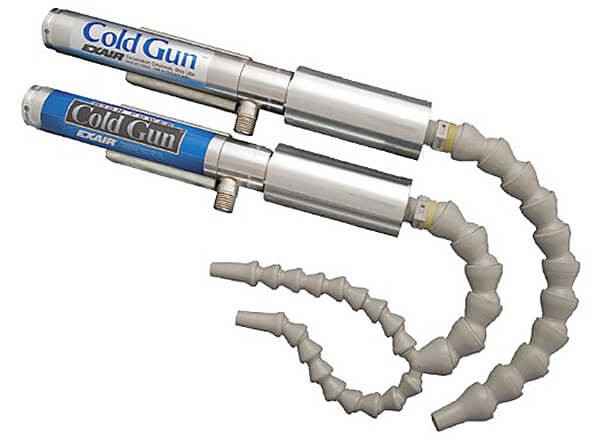 What is the Cold Gun Aircoolant System
A new solution to an old problem. Heat build up on dry machining operations reduces tool life and machining rates. The Cold Gun Aircoolant System produces a stream of clean cold air at 50°F (28°C) below supply air temperature. Operation is a quiet 70 dBA and there are no moving parts to wear out. It will remove heat to prolong tool life and increase productivity on machining operations when liquid coolants cannot be used.
The Cold Gun is also an alternative to expensive mist systems. It eliminates the costs associated with the purchase and disposal of cutting fluids and worker related health problems from breathing airborne coolants or slipping on wet shop floors.
EXAIR's Cold Gun is non-adjustable to prevent freeze-up during use. Cold airflow and temperature drop are factory set to optimize the gun's cooling capability.
The standard Cold Gun and High Power Cold Gun incorporate a vortex tube to convert an ordinary supply of compressed air into two low pressure streams, one hot and one cold. (For complete information on vortex tube operation, see the "Vortex Tubes and Spot Cooling Products" section of this website.) The Cold Gun's hot airstream is muffled and discharged through the hot air exhaust. The cold air is muffled and discharged through the flexible hose, which directs it to the point of use. Easy mounting and portability is provided through the use of an attached magnetic base.
Tool Grinding
Cold air eliminates heat cracking of carbide and tool edge burning during grinding and sharpening operations. Increased tool life between regrinds is the result.
Milling & Drilling
Fly cutters up to 460mm in diameter have been cooled with the Cold Gun. Dissipating heat with cold air extends tool life, increases speeds and feeds, and improves finishes.
Chill Roll
Cooling a roll with 20°F (-7°C) air keeps the material on the surface from bunching up, jamming or tearing. The metal surface transfers the cold temperature to the product.
Laser Cutting
Cold air cools a laser cut part so it can be handled seconds later. The High Power Cold Gun has twice the cooling capacity of the standard Cold Gun, cooling the part in less time.