HollowStream Cone Nozzles – ¼ NPT
Exair's ¼ NPT HollowStream Cone Nozzles produce a ring of liquid upon your target and are among the most common type of spray nozzles. Hollow cone spray nozzles generally use less liquid than full cone spray nozzles. These nozzles will be used when cooling, cleaning, washing, rinsing and dust suppression can be achieved with less liquid than a full cone nozzle. Their tangential flow design is vaneless which creates wide open internal featurest o resist clogging. They produce a uniform distribution in a hollow cone round pattern and medium to large droplets. The right-angle design is compact and operates at up to 250 PSI liquid pressure. HollowStream nozzles also work well with liquids containing particulate. Compared to Exair's Air Atomizing Spray Nozzles the HollowStream will have higher liquid flow rates.
How HollowStream Cone nozzles work
With Fullstream and Hollow Stream nozzles, the atomizing fluid is supplied into the body oft he nozzle creating a swirling action within the vortex chamber. This vortex produces a full cone spray pattern when the precisely machined nozzle breakst he liquid surface tension as it exits theorifice at a controlled spray angle.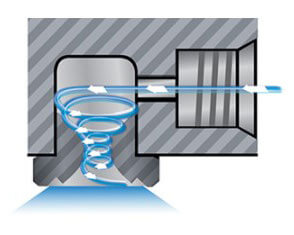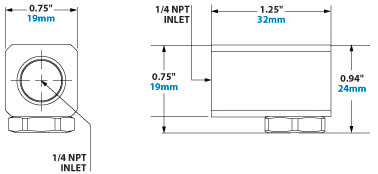 | Model | HL1001SS | HL1002SS | HL1003SS | HL1005SS | HL1008SS | HL1011SS |
| --- | --- | --- | --- | --- | --- | --- |
| Inlet connection | 1/4 NPT | 1/4 NPT | 1/4 NPT | 1/4 NPT | 1/4 NPT | 1/4 NPT |
| Power | 1 | 2 | 3 | 5 | 8 | 11 |
| max. free passage | 0.052″ | 0.086″ | 0.109″ | 0.120″ | 0.166″ | 0.180″ |
| | | | | | | |
| --- | --- | --- | --- | --- | --- | --- |
| Flow rate (LPM) | HL1001SS | HL1002SS | HL1003SS | HL1005SS | HL1008SS | HL1011SS |
| 0,207 bar | 0,23 | 0,53 | 0,76 | 1,02 | 1,74 | 2,46 |
| 0,345 bar | 0,26 | 0,64 | 0,91 | 1,32 | 2,23 | 3,06 |
| 0,483 bar | 0,34 | 0,72 | 1,06 | 1,47 | 2,76 | 3,52 |
| 0,69 bar | 0,38 | 0,76 | 1,21 | 1,85 | 3,02 | 4,16 |
| 1,38 bar | 0,49 | 1,02 | 1,70 | 2,46 | 4,38 | 5,56 |
| 2,76 bar | 0,68 | 1,44 | 2,38 | 3,44 | 6,05 | 7,67 |
| 4,14 bar | 0,79 | 1,74 | 2,91 | 4,23 | 7,71 | 9,45 |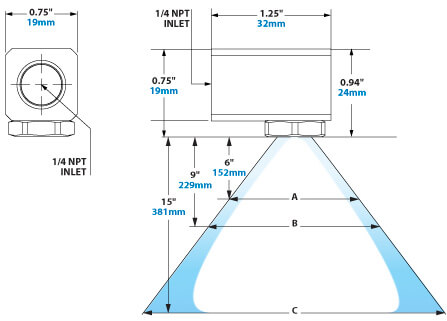 Model
Pressure
Width in cm
HL1001SS
A
B
C
0,5 bar
12,3
15,5
19,8
1,4 bar
18,5
23,3
29,7
4,1 bar
30,8
38,8
49,5
HL1002SS
A
B
C
0,5 bar
15,5
21,7
28,4
1,4 bar
23,3
32,6
42,6
4,1 bar
38,8
54,4
71,1
HL1003SS
A
B
C
0,5 bar
17,2
26,5
33,9
1,4 bar
25,9
39,7
50,8
4,1 bar
43,1
66,2
84,6
HL1005SS
A
B
C
0,5 bar
21,3
24,7
36,3
1,4 bar
32,0
37,0
54,5
4,1 bar
53,4
61,7
90,8
HL1008SS
A
B
C
0,5 bar
18,0
19,8
25,6
1,4 bar
26,9
29,7
38,4
4,1 bar
44,9
49,5
63,9
HL1011SS
A
B
C
0,5 bar
24,2
30,5
37,6
1,4 bar
36,4
45,7
56,5
4,1 bar
60,6
76,2
94,1