Model ER1010SS, ER1020SS, ER1030SS, ER1040SS and ER1050SS – 1/4″ NPT/BSP
Round Pattern
External mix round pattern nozzles are great where a high volume of liquid is needed over a specific or general area, but not in a flat pattern. Applications include spot treatments of parts, covering irregularly shaped objects or covering a container of parts with a heavy coat. They are also an excellent choice for controlling heavy dust and particulates. Since they are external mix, airflow and liquid flow can be controlled independently.
For pressure fed applications with independent air and liquid control.
Temperatures:
External mix nozzles are designed for use up to 204°C.
Please click here (PDF) for droplet sizes and spray pattern.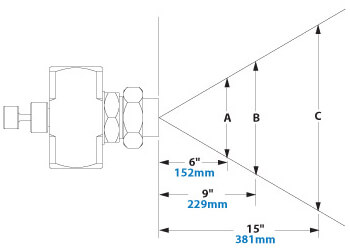 Spray Pattern
Model
Pressure
Width
Max. Depth m
Air BAR
Liquid BAR
A
B
C
cm
cm
cm
ER1010SS
0.7
0.2
7.6
10.9
16.0
2.7
1.4
0.3
8.4
11.4
17.3
3.4
2.8
0.7
8.9
13.5
19.1
4.0
2.8
1.4
8.9
12.7
17.8
4.3
4.1
2.8
10.2
14.0
20.3
4.6
ER1020SS
0.7
0.2
9.7
12.7
19.1
3.0
1.4
0.3
10.2
14.7
17.8
3.7
2.8
0.7
10.9
15.2
21.1
4.6
2.8
1.4
11.4
15.2
21.1
4.6
4.1
2.8
12.7
16.5
21.6
4.9
ER1030SS
0.7
0.2
10.9
15.2
22.4
4.0
2.8
0.3
11.4
16.5
21.6
7.0
2.8
0.7
12.2
17.3
22.9
7.3
4.1
1.4
11.4
17.3
22.9
8.8
4.1
2.8
13.5
17.8
23.6
9.1
ER1040SS
1.4
0.2
14.7
19.1
25.4
4.6
2.8
0.3
15.2
20.3
26.2
5.8
4.1
0.7
15.2
20.3
26.7
7.0
4.1
1.4
14.0
17.8
22.9
7.3
5.5
2.8
11.4
16.5
24.1
9.1
ER1050SS
2.8
0.2
16.5
22.4
27.9
7.0
4.8
0.3
16.5
22.9
25.4
8.5
5.5
0.7
16.5
22.9
27.9
9.1
6.2
1.4
15.2
20.3
27.9
9.8
Air and Liquid Volume
air pressure/ inlet pressure, l/h = liter per hour atomized liquid, l/min = standard liter per minute air consumption
0.2 BAR Liquid
0.3 BAR Liquid
0.7 BAR Liquid
Model
Air Pressure BAR
l/h
l/min
Air Pressure BAR
l/h
l/min
Air Pressure BAR
l/h
l/min
ER1010SS
0.3
3.8
25.5
0.3
5.3
25.5
0.7
7.2
36.8
0.7
3.8
36.8
0.7
5.3
36.8
1.4
7.2
53.8
1.4
3.8
53.8
2.1
5.3
68.0
2.8
7.2
85.0
2.8
3.8
85.0
3.4
5.3
99.1
4.1
7.2
116
ER1020SS
0.4
9.5
25.5
0.7
12.1
36.8
0.7
16.3
36.8
0.7
9.5
36.8
1.4
12.1
51.0
1.4
16.3
53.8
2.1
9.5
68.0
2.8
12.1
87.8
2.8
16.3
87.8
3.4
9.5
102
4.1
12.1
116
4.1
16.3
116
ER1030SS
0.7
16.7
113
0.7
20.8
113
1.0
28.8
139
1.4
16.7
170
1.4
20.8
170
2.1
28.8
218
2.8
16.7
269
2.8
20.8
269
3.4
28.8
317
3.4
16.7
317
4.1
20.8
331
4.8
28.8
379
ER1040SS
1.0
37.9
139
1.4
51.1
170
2.1
71.2
218
2.1
37.9
218
2.1
51.1
218
2.8
71.2
269
2.8
37.9
269
2.8
51.1
269
4.1
71.2
331
3.4
37.9
317
4.1
51.1
331
5.5
71.2
433
ER1050SS
2.8
68.1
396
3.8
98.0
510
4.5
155
595
3.4
68.1
470
4.5
98.0
595
4.8
155
631
4.1
68.1
558
4.8
98.0
631
5.5
155
716
4.5
68.1
595
5.5
98.0
716
6.2
155
790
air pressure/ inlet pressure, l/h = liter per hour atomized liquid, l/min = standard liter per minute air consumption
1.4 BAR Liquid
2.8 BAR Liquid
Model
Air Pressure BAR
l/h
l/min
Air Pressure BAR
l/h
l/min
ER1010SS
1.4
10.2
53.8
1.4
14.4
53.8
2.8
10.2
85.0
2.8
14.4
85.0
4.1
10.2
116
4.1
14.4
116
6.2
10.2
161
6.2
14.4
161
ER1020SS
1.4
22.3
82.1
2.8
28.4
85.0
2.8
22.3
87.8
4.1
28.4
116
4.1
22.3
116
5.5
28.4
150
6.2
22.3
167
6.2
28.4
167
ER1030SS
2.1
41.6
218
2.8
53.0
269
2.8
41.6
269
3.4
53.0
317
4.1
41.6
331
4.1
53.0
331
5.5
41.6
433
5.5
53.0
433
ER1040SS
2.8
104
269
3.4
117
317
3.4
104
317
4.1
117
331
4.1
104
331
4.8
117
379
5.5
104
433
5.5
117
433
ER1050SS
5.5
227
716
—
—
—
6.2
227
790
—
—
—