Model SF2010SS, SF2020SS and SF2030SS – 1/4″ NPT/BSP
No Drip Siphon Fed Flat Fan Pattern Atomizing Nozzles
No drip siphon fed flat fan pattern nozzles are ideal for applications where liquid pressure is not available and a thin coating is needed over a wide band. No drip siphon nozzles work best with a suction height of 36″ or less. Since these nozzles are siphon fed, the compressed airflow draws the liquid in and mixes it internally. Liquid flow is dependent both on the gravity or suction height and the airflow. These nozzles can be used for applications as washing, rinsing, coating, cooling and quenching.
Temperature:
No Drip Flat Fan Pattern Spray Nozzles are rated for temperatures up to 204°C.
Please click here (PDF) to view Droplet Size and Spray Angle information.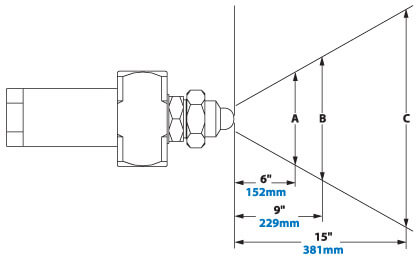 Spray Dimensions
Model
Air
Width
Max. Depth m
Pressure BAR
A
B
C
cm
cm
cm
SF2010SS
0.7
23
28
33
1.5
1.4
25
30
36
1.8
2.1
28
33
38
2.1
SF2020SS
1.4
25
36
48
1.8
2.1
28
38
53
2.1
2.8
33
41
58
1.8
3.4
36
46
64
1.8
SF2030SS
1.4
23
28
38
2.4
2.1
25
33
43
2.7
2.8
28
36
43
3.0
3.4
28
36
46
3.4
Flow Rates
l/h = Liter per Hour l/min = Standard Liter per Minute
Liquid Flow in l/h
Air
Gravity Head
Siphon Height
Model
Pressure BAR
l/min
46cm
30cm
15cm
10cm
20cm
30cm
61cm
91cm
SF2010SS
0.7
25.5
1.5
1.1
1.1
0.8
0.8
0.8
0.8
0.4
1.4
36.8
1.5
1.1
1.1
1.1
1.1
1.1
0.8
0.8
2.1
48.1
1.1
1.1
1.1
1.1
1.1
—
—
—
SF2020SS
1.4
65.1
4.5
4.2
3.8
3.4
3.0
3.0
2.3
1.9
2.1
82.1
4.2
4.2
3.8
3.0
3.0
3.0
2.3
1.9
2.8
99.1
3.8
3.4
3.0
2.6
2.6
2.6
1.9
1.5
3.4
122
3.0
2.6
1.9
1.9
1.5
1.1
—
—
SF2030SS
1.4
62.3
6.8
6.1
5.7
5.3
5.3
4.9
4.2
3.8
2.1
79.2
7.2
6.8
6.8
6.4
6.4
6.1
5.3
4.5
2.8
93.4
6.8
6.8
6.4
6.1
6.1
5.7
4.9
4.5
3.4
113
6.1
5.7
5.3
5.3
4.9
4.9
4.2
3.8