Heavy Duty Dry Vac™ – similar to Chip Vac™ but provides more power!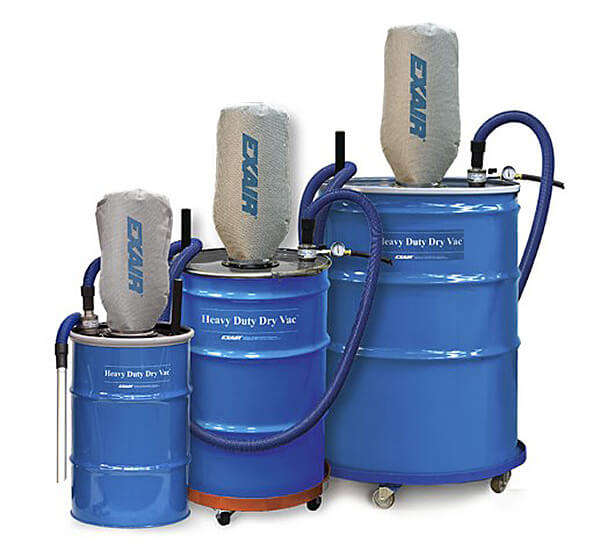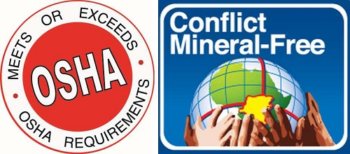 What Is The Heavy Duty Dry Vac?
The Heavy Duty Dry Vac attaches to an ordinary 30, 55 or 110 gallon open-top drum to turn it into a powerful, industrial duty vacuum cleaner. The Heavy Duty Dry Vac has been engineered to vacuum more dry materials in less time with less wear. Designed for tough industrial environments, the hardened alloy construction resists premature wear while the increased power handles difficult jobs and harsh conditions. The quiet operation makes it suitable for a wide variety of applications including the clean up of abrasive materials like steel shot, garnet, metal chips, and sand while also useful for general purpose applications like vacuuming floors, machines, work stations, industrial machinery and equipment.
Vacuuming Rate Comparison
| | 1/4" NPT Pipe Plugs bulk density 4005 kg/m³ | Plastic Pellets (tumbling media) bulk density 1110 kg/m³ | Steel Shot (blasting media) bulk density 5089 kg/m³ |
| --- | --- | --- | --- |
| Standard Chip Vac | 5 kg/min | 12,4 kg/min | 5,9 kg/min |
| Heavy Duty Dry Vac | 12,2 kg/min | 23,4 kg/min | 14,5 kg/min |
| Increase % | 142 % | 88 % | 146 % |
Pressure Supply
Air Consumption
Model
PSIG
BAR
l/min
Inlet
Sound Level
6197/6197-30/6297/6297-30/6397/6397-30/6397-110/6097
80
5,5
1924
3/8 NPT
82 dBA
| Model | Description |
| --- | --- |
| 6197 | 55 Gallon Heavy Duty Dry Vac System includes the Heavy Duty Dry Vac, lever lock drum lid, shutoff valve, filter bag, 10′ (3m) polyethylene static resistant hose (1-1/2″/38mm I.D.), hose hanger, 1/2″ NPT quick connect couplings, 20′ (6,1m) air hose with swivel fitting, pressure gauge, and aluminum chip wand (drum not included). |
| 6197-30 | 30 Gallon Heavy Duty Dry Vac – same as Model 6197 except fits a 30 gallon drum (drum not included). |
| 6297 | 55 Gallon Deluxe Heavy Duty Dry Vac System – same as Model 6197 plus drum dolly and heavy duty aluminum tools. Additional tools include 2 piece double bend wand, 12″ (305mm) floor tool, 11″ (279mm) crevice tool, 24″ (610mm) crevice tool, skimmer tool with detachable brush, tool holder, and a 3-1/2″ (89mm) diameter dust brush with conductive bristles (drum not included). |
| 6297-30 | 30 Gallon Deluxe Heavy Duty Dry Vac System – same as Model 6297 except fits a 30 gallon drum (drum not included). |
| 6397 | 55 Gallon Premium Heavy Duty Dry Vac System – same as Model 6297 and adds a 55 gallon drum. |
| 6397-30 | 30 Gallon Premium Heavy Duty Dry Vac System – same as Model 6397 except includes a 30 gallon drum. |
| 6397-110 | 110 Gallon Premium Heavy Duty Dry Vac System – same as Model 6397 except includes a 110 gallon drum. |
| 6097 | Heavy Duty Dry Vac only – included in all systems listed above. |
| Model | Description |
| --- | --- |
| 6804 | Replacement Filter Bag, 0,1 Micron, 95% efficient |
| 901176 | Tool Holder |
| 901071 | Heavy Duty Aluminum Tools plus Tool Holder |
| 6580-20 | 20′ (6,1m) Static Resistant Vacuum Hose |
| 9041 | 55 Gallon Drum Dolly |
| 9041-5/-30/-110 | Drum Dolly for 5-/30-/110 Gallon Drum |
| 901069/-30/-110 | Drum Only 30/ 110 Gallon |
| xxxx | For Filters and Seperators – please contact us. |