Mini Cooler™
Cool small parts and tools with clean, cold air.
Prevent burning, melting or breakage.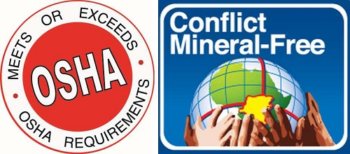 What is the Mini Cooler?
A proven way to reduce downtime and increase productivity on a variety of operations involving small parts where heat is the problem. EXAIR's Mini Cooler produces a stream of 20°F (-7°C) cold air to prevent heat build-up. The Mini Cooler is particularly effective on high speed operations to prevent burning, melting and breakage. Operation is quiet (76 dBA) and there are no moving parts to wear out.
How the Mini Cooler Works
The Mini Cooler incorporates a vortex tube to convert a small amount of compressed air into two low pressure streams, one moving within the other in opposite directions. The two airstreams exchange heat, producing cold air from one end of the tube and hot air from the other. A flexible hose directs the cold airstream at the surface to be cooled.
Small tool cooling

Needle cooling

Blade cooling

Lens grinding
Air Consumption
Temperature Out
Sound @
3′ (914mm)
SCFM
SLPM
°F
°C
dBA
INLET
8
227
20
-7
76
1/4 NPT
Supply air at 100 PSIG (6.9 BAR) and 70°F (21°C)
| Model | Description |
| --- | --- |
| 3808 | Mini Cooler System includes the Mini Cooler, swivel magnetic base, mini single point hose kit and manual drain filter |
| Model | Description |
| --- | --- |
| 5904 | Mini Cooler Hose Kit (Included with 3808) |
| 5905 | Mini Cooler Dual Point Hose Kit |
| 9003 | Manual Drain Filter Separator, 1/4 NPT, 27 SCFM (765 SLPM) (included with 3808) |
| 9012 | Manual Shutoff Valve, 1/4 NPT |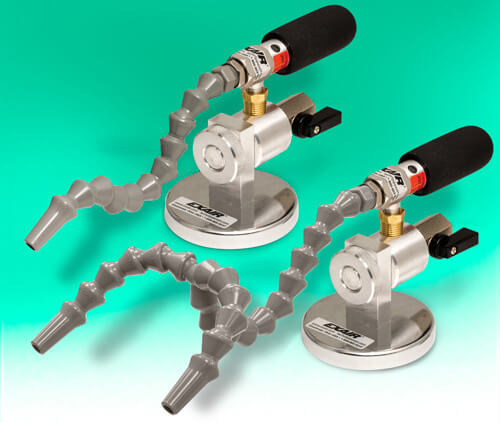 Model 3808 Mini Cooler System includes
the Mini Cooler, Manual Drain Filter
Separator (not shown), swivel magnetic
base and mini single point hose kit.