Lightweight solution for static and particulate elimination in sensitive processes.
What is the Intellistat Ion Air Gun?
The patent pending Intellistat ist the newest innovation in a long line of Exair static elimination solutions. This intelligent product utilizes balanced and ionized compressed air to neutralize static and remove troublesome particulates during clean processes, test procedures and sensitive assembly work. With a +/-30 volt offset, the Intellistat was designed to consume minimal compressed air while simultaneously delivering precise blow-off and exceptional static decay rates capable of reducing 5000 volts to less than 500 in under one second. The design hosts an efficient and low voltage transformer converting 120V to 24V to assure safety, while also utilizing Exair engineered air nozzles ensuring it meets all OSHA requirements for sound level and dead-end pressure.
Why the Intellistat Ion Air Gun?
Coming equipped with a short-throw, fast acting and effortless trigger, the Intellistat's lightweight frame (less than 200 grams) allows extended use without fatigue, while also providing a dependable and low maintenance solution. The Model 8500 Intellistat Ion Air Gun is also fitted with handy features such as a 6 mm air connection, red and green LED lights to signify ionized air is being produced, and a hook for convenient hanging and storage. The 316SS emitter point is so simple to change, it can be completed in less than one minute. It's fashioned from durable dissipative polycarbonate to assure ist usefulness in applications requiring non-conductivity such as circuit boards or electronics manufacturing, and utilizes clean, ionized compressed air essential for removing dust, static or particulate contaminates in sterile environments such as laboratories, clean rooms, or scientific testing.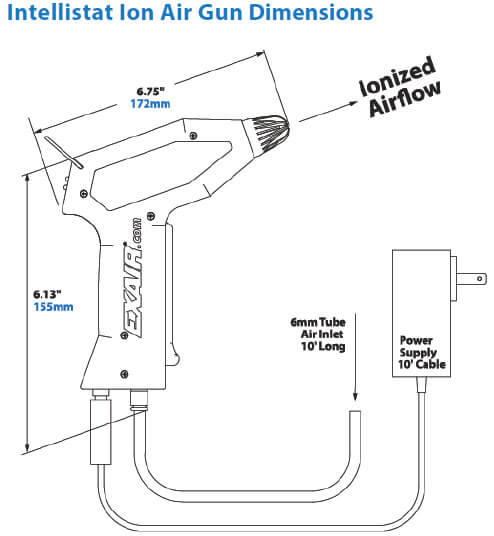 How the Gen4 Ion Air Jet works?
Pressing the full finger, short throw trigger activates the static eliminating ions and airflow. Proper or improper functionally is indicated by a green or red LED. The non-marring nozzle provides quiet performance and OSHA compliance. A hanger hook is included to keep the Intellistat conveniently stored.
Applications
Precision parts assembly
Maintain charge neutrality in laboratory processes
Remove particles from parts and surfaces in clean environments
Printed circuit board manufacturing
Maintain cleanliness during electronics manufacturing and assembly
Eliminating electrostatic discharge
Remove debris from medical products
Clean glass containers, slides and lenses
Advantages
Rapid static decay
Low voltage operation
Quick change emitter point
Comfortable, short throw trigger for ionization
Light weight for prolonged use
OSHA safe air outlet
LED indicators for proper and improper functionality