AIR LUBROCOLD – Minimal lubrication and cooling system for machine tools and industrial applications. It provides a continuous cold air flow adding lubricant micro injections at the same time.
Air-oil lubrication is a recent technology compared to the other machine tools cooling systems. It was especially developed to comply with most recent high performance machines and tools, granting in the mean time low environmental impact and coolant cost reduction. Air Lubrocold system is gradually replacing the traditional spraying systems who have a huge impact on environment conditions.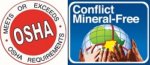 What is AIR LUBROCOLD?
It is a device composed by two main components working in combination, an Exair vortex tube used to generate a cold air flow and a small piston pump used to provide cyclic oil micro injections. AIR LUBROCOLD works with compressed air, it can be operated by a pneumatic timing element or by a solenoid valve directly connected with the CNC system.
How it works
AIR LUBROCOLD provides a continuous cold air flow (adjustable temperature) enriched by cyclic oil micro injections (adjustable cycle and oil quantity) granting both cooling and tools lubrication.
Available versions
AIR LUBROCOLD it available with the following main versions:
Single output with flexible hose, suitable for milling, lathe, drilling, tapping
Single output with fork type nozzle, suitable for saw mills and cutters
Double output for heavy duty applications where a superior cooling capacity is required or where the tools need to be lubricated on both sides
All versions are available with open version or fully enclosed in a steel box
| | |
| --- | --- |
| Article Number | Description (open version) |
| 4016505 | Cooling – minimal lubrication system 1 lt. tank, single output single pump with timer |
| 4016506 | Cooling – minimal lubrication system 1 lt. tank, single output (fork type for band saw machines and cutters) single pump with timer |
| 4016502 | Cooling – minimal lubrication system 3 lt. tank, single output single pump with timer |
| 4016507 | Cooling – minimal lubrication system 3 lt. tank, single output (fork type for band saw machines and cutters) single pump with timer |
| 4016503 | Cooling – minimal lubrication system 1 lt. tank, single output single pump without timer |
| 4016504 | Cooling – minimal lubrication system 3 lt. tank, single output single pump without timer |
| 4016510 | Cooling – minimal lubrication system 1 lt. tank double outputs double pump with timer |
| 4016501 | Cooling – minimal lubrication system 3 lt. tank double outputs double pump with timer |
| 4016508 | Cooling – minimal lubrication system 1 lt. tank double outputs double pump without timer |
| 4016509 | Cooling – minimal lubrication system 3 lt. tank double outputs double pump without timer |
| | |
| --- | --- |
| Article Number | Description (fully enclosed version) |
| 4016516 | Fully enclosed cooling – minimal lubrication system 1,2lt. tank, single output single pump with timer |
| 4016517 | Fully enclosed cooling – minimal lubrication system 1,2 lt. tank, single output (fork type for band saw machines and cutters) single pump with timer |
| 4016515 | Fully enclosed cooling – minimal lubrication system 2,2lt. tank, single output single pump with timer |
| 4016522 | Fully enclosed cooling – minimal lubrication system 2,2 lt. tank, single output (fork type for band saw machines and cutters) single pump with timer |
| 4016514 | Fully enclosed cooling – minimal lubrication system 1,2lt. tank, single output single pump without timer |
| 4016513 | Fully enclosed cooling – minimal lubrication system 2,2lt. tank, single output single pump without timer |
| 4016521 | Fully enclosed cooling – minimal lubrication system 1,2lt. tank, double outputs double pumps with timer |
| 4016520 | Fully enclosed cooling – minimal lubrication system 2,2lt. tank, double outputs double pumps with timer |
| 4016519 | Fully enclosed cooling – minimal lubrication system 1,2lt. tank, double outputs double pumps without timer |
| 4016518 | Fully enclosed cooling – minimal lubrication system 2,2lt. tank, double outputs double pumps without timer |
| | |
| --- | --- |
| Article Number | Conversion Kit |
| 4016511 | Conversion kit from minimal lubrication system to cold – minimal lubrication system single output |
| 4016512 | Conversion kit from minimal lubrication system to cold – minimal lubrication system double output |
More Information
Higher cutting speed
Longer tools endurance
Avoids thermal shocks
High quality of machined parts, almost clean at the end of machining operation
No smoke, steam and dew during machining process
Environmental friendly, this system does not generate coolant fog
No coolant to be managed and controlled into the machined sump, costs reduction
No splashing around, maximum visibility during machining phase
Easy chips recycling since due to the very low oil contamination
Adjustable air temperature from ambient down to 0°C
Adjustable oil flow from 0 to 30 mm3 every pump stroke
Injection cycle timing adjustable from less than one second up to one minute
Compressed air consumption: 250 Nlitres/min @ 5,5 BAR (single output) 450 Nlitres/min @ 5,5 BAR (double output)
Steel bracket with installation holes (open version) or steel enclosure (fully enclosed version)
Tank with 1 or 2 or 3 liters (according to the model) with low oil level switch
Adjustable mini pump for oil injections (two pumps for double output versions)
Adjustable Exair vortex tube working with compressed air
Orientable magnetic base to easy locate the cooling system on the machine frame
Flexible hose with single/double output with cold air and oil inlets
Pneumatic timing element (only on timed cycle versions)
2 meters flexible hose to connect central system with the magnetic base holding cooler and nozzle
Magnetic base to hold central unit (direct connection to provided unit steel plate)
6 liters tank with low oil level switch
Connection hose between central unit and magnetic base/nozzle with custom length
Special devices with multiple output are available upon request even in fully enclosed version