Modelle EB1010SS, EB1020SS, EB1030SS and EB1040SS – 1/4″ NPT/BSP
External mix wide angle flat fan pattern nozzles are great where a high volume of liquid is needed over a wide area such as a conveyor line. Because they are external mix, airflow and liquid flow can be controlled independently. Common applications are those which require a moderate application of liquid over a broad area, such as cooling or coating wide webs.
For pressure fed applications with independent air and liquid control.
Temperatures:
External mix nozzles are designed for use up to 204°C.
Please click here (PDF) for droplet sizes and spray pattern.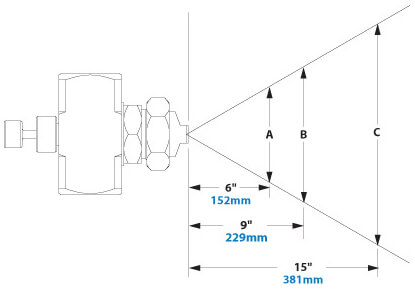 Spray Pattern
Model
Pressure
Width
Max. Depth m
Air BAR
Liquid BAR
A
B
C
cm
cm
cm
EB1010SS
0.7
0.3
20.3
27.9
35.6
2.7
1.0
0.7
22.9
30.5
43.2
3.4
1.4
1.4
23.6
35.6
48.3
3.4
1.7
2.1
27.9
38.1
50.8
4.0
1.7
2.8
27.9
38.1
53.3
4.3
EB1020SS
0.6
0.3
27.9
40.6
48.3
2.4
1.0
1.4
27.9
40.6
53.3
3.4
1.4
1.4
30.5
43.2
55.9
3.7
1.7
2.1
33.0
45.7
61.0
3.7
2.1
2.8
33.0
48.3
61.0
4.3
EB1030SS
1.0
0.2
27.9
43.2
53.3
4.0
1.7
0.7
30.5
45.7
58.4
4.9
3.1
1.4
33.0
48.3
61.0
6.4
4.1
2.1
35.6
45.7
61.0
7.9
4.8
2.8
35.6
45.7
61.0
9.1
EB1040SS
2.1
0.3
33.0
48.3
61.0
5.2
3.1
1.4
35.6
50.8
66.0
5.8
4.5
1.4
38.1
53.3
68.6
7.0
5.5
1.4
38.1
55.9
71.1
7.9
6.2
2.8
40.6
55.9
71.1
7.9
Air and Liquid Volume
air pressure/ inlet pressure, l/h = liter per hour atomized liquid, l/min = standard liter per minute air consumption
0.2 BAR Liquid
0.3 BAR Liquid
0.7 BAR Liquid
Model
Air Pressure BAR
l/h
l/min
Air Pressure BAR
l/h
l/min
Air Pressure BAR
l/h
l/min
EB1010SS
0.3
3.8
25.5
0.3
5.3
25.5
0.6
7.2
31.1
0.6
3.8
31.1
0.7
5.3
36.8
0.7
7.2
36.8
0.7
3.8
36.8
1.0
5.3
48.1
1.4
7.2
56.6
1.0
3.8
48.1
1.4
5.3
56.6
2.1
7.2
73.6
EB1020SS
0.4
9.5
28.3
0.4
12.1
28.3
0.4
16.3
28.3
0.5
9.5
31.1
0.6
12.1
31.1
0.6
16.3
31.1
0.6
9.5
31.1
0.6
12.1
34.0
0.7
16.3
36.8
0.7
9.5
36.8
0.7
12.1
36.8
0.8
16.3
42.5
EB1030SS
0.6
16.7
96.3
0.7
20.8
108
1.0
28.8
136
1.0
16.7
136
1.4
20.8
167
1.7
28.8
190
1.4
16.7
167
1.7
20.8
190
2.4
28.8
238
1.7
16.7
190
2.1
20.8
215
2.8
28.8
263
EB1040SS
0.7
37.9
108
1.0
51.1
136
1.7
71.2
190
1.0
37.9
136
1.4
51.1
167
2.1
71.2
215
1.4
37.9
167
2.1
51.1
215
2.8
71.2
263
1.7
37.9
190
2.4
51.1
238
3.1
71.2
286
air pressure/ inlet pressure, l/h = liter per hour atomized liquid, l/min = standard liter per minute air consumption
1.4 BAR Liquid
2.8 BAR Liquid
Model
Air Pressure BAR
l/h
l/min
Air Pressure BAR
l/h
l/min
EB1010SS
0.7
10.2
36.8
1.0
14.4
48.1
1.4
10.2
56.6
1.4
14.4
56.6
2.1
10.2
73.6
2.1
14.4
73.6
2.4
10.2
85.0
2.4
14.4
85.0
EB1020SS
0.7
22.3
36.8
1.4
28.4
56.6
0.8
22.3
42.5
1.7
28.4
65.1
1.0
22.3
48.1
2.1
28.4
74.0
1.4
22.3
56.6
2.4
28.4
85.0
EB1030SS
2.4
41.6
238
3.4
53.0
311
3.1
41.6
286
4.5
53.0
348
3.8
41.6
331
5.9
53.0
445
4.1
41.6
340
6.5
53.0
476
EB1040SS
3.1
104
286
5.2
117
388
3.4
104
311
5.9
117
445
4.8
104
379
6.5
117
476
5.5
104
419
6.9
117
518