Model AF2010SS, AF2020SS, AF2030SS, AF2040SS and AF2050SS – 1/4″NPT/BSP
Model AF6010SS and AF6020SS – 1/2″ NPT/BSP
No Drip Internal Mix Flat Fan Pattern Nozzles
No drip internal mix flat fan atomizing nozzles are ideal for vertical and horizontal assembly lines, their broad thin pattern makes efficient use of your exprensive and previously messy liquids. Their output can be adjusted for a very light film or a heavy coat of whatever liquid is used. Whether it´s applying paint to hanging sheet metal, or using a water mist to cool a laminate web, flat fan atomizing nozzles cover a wide flat area, ideal for products moving on a conveyor.
No drip atomizing spray nozzles work in the same way our standard atomizing nozzles do, but have the added benefit of positively stopping liquid flow when compressed air is shut off.
For pressure fed applications not requiring independent air and liquid control.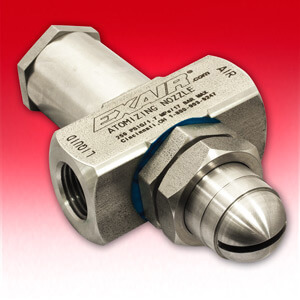 Model: AF6010SS
1/2″ NPT/BSP
Material: Stainless Steel Type 303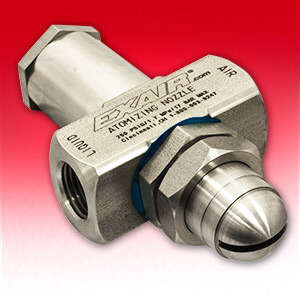 Model: AF6020SS
1/2″ NPT/BSP
Material: Stainless Steel Type 303