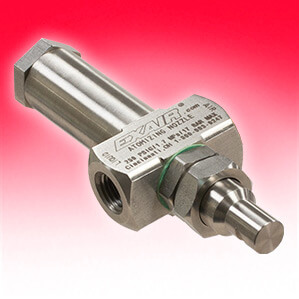 These nozzles are designed for applications where space is at a premium.
Model: AD2010SS
1/4″ NPT/BSP
Material: Stainless Steel Type 303
Model AD2010SS – 1/4″ NPT/BSP
No Drip Internal Mix Deflected Flat Fan Pattern Nozzles
No drip internal mix deflected flat fan atomizing nozzles are used for application whres space is at a premium. The flat fan patern sprays at a right angle to the nozzle´s direction, allowing spray precisely in close quarters.
No drip atomizing spray nozzles work in the same way our standard atomizing nozzles do, but have the added benefit of positively stopping liquid flow when compressed air is shut off.