Adjustable Air Amplifier™ – Highly effective air mover with no moving parts!

What Are Adjustable Air Amplifiers?
Adjustable Air Amplifiers have good amplification ratios and are very easy to use. The air gap is infinitely adjustable which regulates the consumption and outlet flow from a "breeze" to a "blast". They are available in aluminum or in stainless steel for food service, higher temperatures (400°F/204°C), and corrosive applications. High Temperature Stainless Steel Air Amplifiers for temperatures up to 700°F (374°C) are available. Please contact your distributor.
Force and flow for the Adjustable Air Amplifier is changed by turning the exhaust end (with the knurled ring loose) to open or close the continuous air gap. When desired performance is obtained, the knurled ring can be tightened to lock the flow at that setting. In most cases,
a .002″ to .004″ (.05mm to .10mm) air gap is ideal.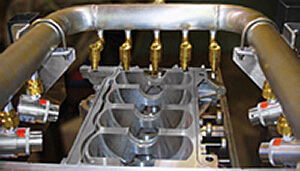 Adjustable Air Amplifiers and High
Velocity Jets dry an engine block
prior to assembly.