Minimize compressed air use for blowoff, drying, cooling, conveying and static elimination operations!
Dramatically reduces compressed air costs by turning off the compressed air when no part is present!

What Is The EFC?
EXAIR's EFC™ is a user-friendly electronic flow control for compressed air that is designed to minimize compressed air use on blow off, drying, cooling, conveying and static elimination operations. The EFC combines a photo electric sensor with a timing control that limits compressed air use by turning it off when no part is present. The timing control permits easy tuning to the application requirements while providing flexibility in sensing distance.
For most companies, the air compressor uses more electricity than any other type of equipment. One simple operation that uses compressed air can easily waste thousands of those electricity dollars per year if not properly controlled. The EFC has been designed to improve efficiency by minimizing compressed air use and, as a result, reduces compressed air costs. It turns on the air only when the part is present and provides just enough air to complete a specific task or operation.
The EFC has an easy electrical connection for voltages from 100V to 240VAC, making it suitable for applications throughout the world. The compact photoelectric sensor has a sensitivity adjustment and detects objects up to 3′ (1 meter) away. The sensor has superior immunity to noise and inductive loads that are common to industrial environments and installs
easily in tight spaces with the supplied mounting bracket. The control system provides flexibility
with numerous valve operating modes and timing delays. The polycarbonate enclosure is suitable
for use in a wide range of applications including those located in wet environments.
Power Supply Input – 100V-240VAC, 50/60Hz, 0.25-0.45A
Power Supply Output (To Sensor) – 24VDC at .65A
Sensor – 12-24VDC input, consumes 30mA
Sensing Range – Diffuse retro-reflective to 3′ (1 meter)
Enclosure Rating – NEMA 4
Temperature Rating – 13°F to 131°F (-25°C to 55°C)
RoHS Compliant – Yes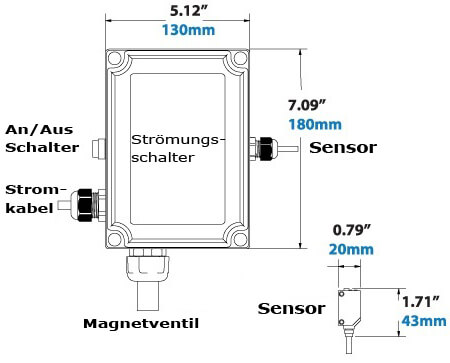 The timing control unit and the photoelectric sensor are equipped with a 9′ (2.74m) power cord. The timing control unit is housed in a polycarbonate NEMA 4/IP56 water tight enclosure.
There are four models of the EFC. Each includes the timing control unit and photoelectric sensor with a choice of solenoid valve sizes of 40, 100, 200 and 350 SCFM.
Use the EFC to save more air with EXAIR's engineered airflow products